Here we are at the apex of the holiday season and as we near Christmas, I thought it would be a great chance to reminisce about some great Christmas classics and talk a little about the season. First and foremost, I must admit that Christmas is not my favorite holiday, but one of the things that really gets me into the Christmas spirit are Christmas movies and all of those classic television specials that make the rounds.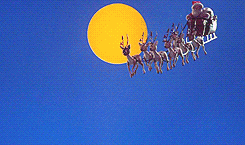 In fact, my best memories of Christmas involve my family all gathering to watch classic specials such as Rudolph, the Red-Nosed Reindeer (1964), The Year Without a Santa Claus (1974) and How the Grinch Stole Christmas (1966). Each one of these are a product of their era, but I would argue that there has never been a better time period for Christmas than 1950 through 1975.
Think about it. Most of the Christmas songs that we all know and love are all from that time frame. Sure we get some great examples of musical Christmas cheer from time to time, such as the absolute classic Christmas in Hollis, by Run DMC, but for every one of those we get twenty remakes of classic standards from what we will call the Golden Age of Christmas. I will pass on another Maria Carey version of Santa Baby.
I think that much what came out of the Golden Age of Christmas was a result of our victory in World War II. Soldiers came home, started families and America experienced a boom of prosperity. What better time revel in that prosperity than Christmas? New families, new experiences and a longing for sentimentality. When I think of Christmas, it is always 1950 (even though I wouldn't be born for another 30 years) and much of that is due to the Golden Age of Christmas.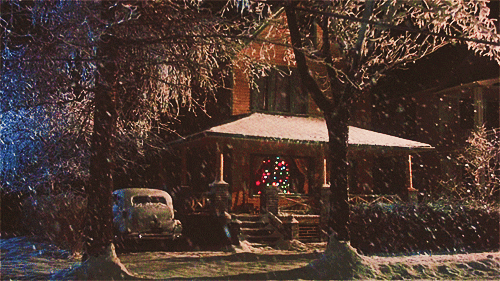 So while I sat with my Mom, Dad and sister, enjoying these miracles of animation and stop-motion, I grew to love the season. For me, Christmas has always been about family. Sure, presents are nice and few will ever top getting a Nintendo in 1989, but without my family it would be empty. This sense of family is what makes a great holiday film or special.
For example, Gremlins (1984) is my all-time favorite Christmas movie of all time. I can hear you now, "Gremlins, really?" but it really is my favorite and it is all about family. At some point we will talk in greater length about this movie and some of the burning questions I have regarding the Mogwai species, but for now we are going to focus on the family.
At it's heart, Gremlins presents the classic tale of boy and dog, except the dog just happens to be a special critter with even more special rules. Imagine if you couldn't feed your dog after midnight or get them wet! Mogwai must be really smelly when you think about that last rule. Anyways, animals really are important parts of our family. Gizmo (Howie Mandel) is a fantastic example of one of these furry family members.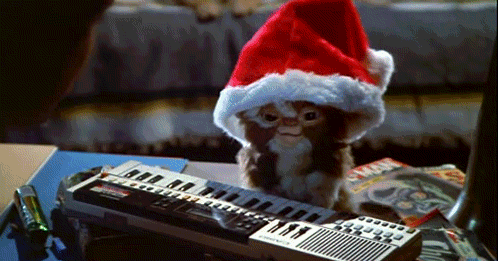 Given as a Christmas present to Billy Peltzer (Zach Gilligan) from his father (Hoyt Axton), Gizmo immediately joins the Peltzer family. He also enters the category of "dream pet" for every kid, ages 4+. Needless to say, rules are broken and the consequences of poor pet choices ensue. Gizmo has the ability to spawn his own little family, but these are the type of family members that do not get invited to Christmas dinner. In fact, they all should be institutionalized. These are the Gremlins promised in the title.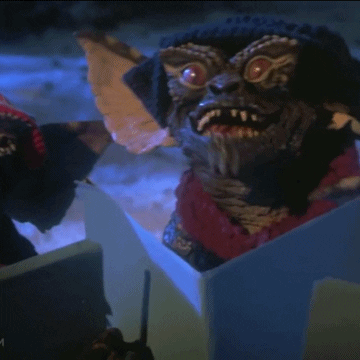 What results next was enough to make Gremlins one of the first PG-13 films of all time. Christmas mayhem follows and it is one of the coolest things ever. I cannot hear Do You Hear What I Hear by Johnny Mathis without seeing a Gremlin being liquefied in a blender. BEST. CHRISTMAS. MOVIE. EVER!
In the end, family triumphs over chaos (the story of EVERY Christmas) and little Gizmo finds solid footing with his adopted family.
Perhaps next Christmas I will go into greater detail into just what makes Gremlins such a holiday classic in my heart but for now I will just rank it up there with It's a Wonderful Life (1946) and Miracle on 34th Street (1947).
Now I have my own little family and I look forward to the day when I can share Gremlins, How the Grinch Stole Christmas and A Charlie Brown Christmas (1965) with my son. The magic of Christmas is all about building a story, a myth and memories that last forever.
Unless it is The Star Wars Holiday Special (1978)… that, I wish I could forget.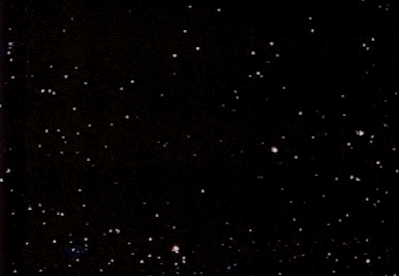 Happy Christmas everyone and don't forget you can get many of these holiday classics at your Chesapeake Public Library!
Latest posts by CPL Admin (see all)