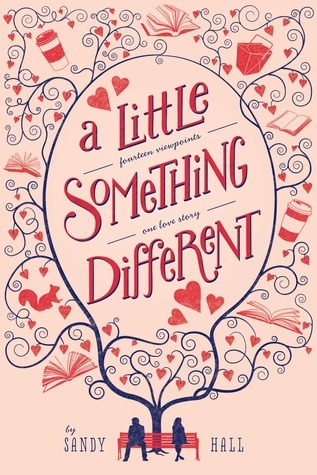 An obscure (although wonderful) anniversary is being celebrated today. So in honor of that, we're looking at a new release from a somewhat obscure, but completely wonderful imprint. SwoonReads is a community of teen romance readers, writers, and a publisher, all working together in a fabulous creative space. Well worth checking out at , SwoonReads is definitely something different on the teen literature horizon – a fun example of how modern tech is changing (and being changed by) the world of books.
Appropriately, A Little Something Different really is a little different. This is a fabulous chocolate truffle of a romance. A little off beat, with two slightly off-center protagonists, the story rolls out from the perspective of no fewer than fourteen different narrators. And the narrators aren't even all human – unlike the novel, which is so sweetly human you'll want to go back to it again and again.
Lea and Gabe are the Boy Meets Girl couple at the heart of the tale, but they're the last to know it. Read along with a host of personalities as they figure it out. No plot synopsis here – you owe it to yourself to experience this one right out of the covers.
And happy anniversary, CheeseSlayer. Still and always.
Latest posts by CPL Admin (see all)